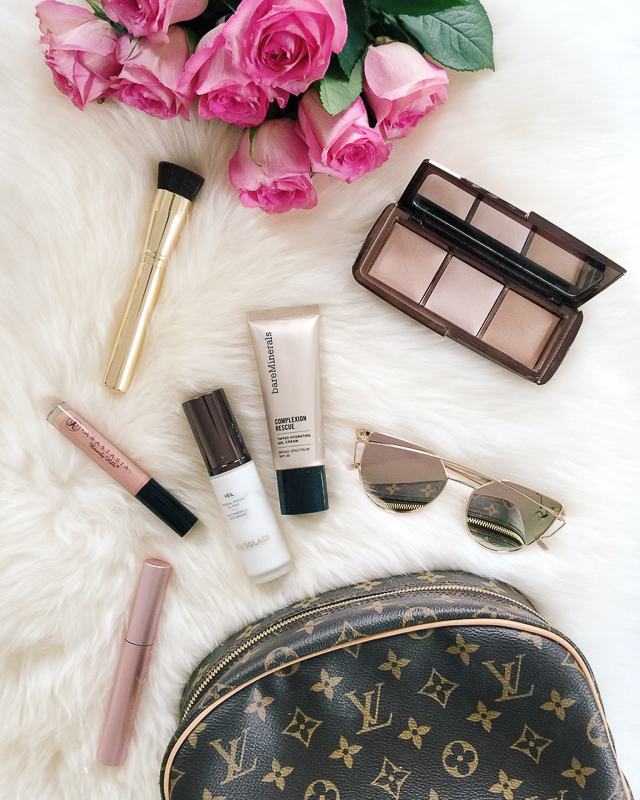 It has been a full year since I last blogged about my complete makeup routine, so I thought it was time for an update. (FYI, the post is not sponsored in any way.) I've been getting more questions that usual about my makeup… I honestly don't think I'm very good at makeup, but I do plan on doing a YouTube video soon so that you can see what the products look like on my skin.
As a preface to this post, I do want to say how important it is to wash your face and take off your makeup at night – I can visibly see a huge difference in my skin the next morning if I don't. I use this face wash and this moisturizer every night before bed and am completely obsessed with both. The combination of the two has completely transformed my skin! (Read about my struggle with acne here.) My makeup looks so much better on because my skin is smoother and more moisturized, which I attribute to the face wash and moisturizer.
Now let's get started with makeup…
1. Primer
I always begin my makeup routine with
this face primer
– I have raved about it before – it feels like silk on your skin! Just a little bit goes a LONG way, so one bottle will last you a really long time. It makes my makeup look smooth and flawless on top.
2. Foundation
I have used
this foundation
for the past three or so months and really love it. It's really hydrating (which is great for my sometimes dry skin) and I really love that it has an SPF of 55+ for the summer months. I don't have to apply sunscreen on my face which is so nice, because sunscreen clogs pores! I use
this foundation brush
to apply the product – and lately I've been mixing in
this liquid bronzer
with the foundation to create a bronzed look. I literally mix the two products right on my makeup brush, dab small amounts all over my face and then blend in a circular motion.
There are some days that I don't want to wear much makeup or go through my entire makeup routine… on those days, I turn to this product. It covers incredibly well, blurs imperfections and just makes my skin look really natural – the perfect "no makeup makeup" look.
3. Under Eyes
Next I apply
this BB Cream in "fair"
right underneath my eyes and down the front of my nose. The key is blending REALLY well into my foundation. I like a bright under eye, but in the past I have made the mistake of applying too much! You want your eyes to look bright and youthful, and for the under-eye concealer to blend into the rest of your makeup.
4. Contour
This contour kit
is the best – I have tried a few others and didn't like them as much. The shades are perfect for applying around my hairline and underneath cheekbones. I also like the highlight shade that comes in the kit – I'll apply this on my forehead, chin and down my nose. I use
this bronzer
for contouring the sides of my nose – the brush it comes with is the perfect contour brush.
5. Blush
I have used
this blush
for years and keep coming back to it because the formula is so nice – it goes on really smoothly and is long-lasting. Right now I'm using the color "pastel pink" (t's perfect for summer) but I also have "nude pink" and it's also gorgeous and suitable for all skin types. I use
this brush
with all of my blushes and it's perfect for applying on the apples of your cheeks!
6. Highlight
I picked up
this highlighter
at Sephora in Charleston a few weekends ago when my previous highlighter busted in my makeup bag. I didn't even test it out before buying because I had heard so many good things about it – and it has lived up to the hype! This is a beautiful glowy highlighter that blends into your skin flawlessly. The great thing about this product is that you can build it up for a stronger highlight, depending on what you like.
7. Mascara
My mascara routine hasn't changed in a long time… I start with L'Oreal Double Extend primer from the drugstore (I only use the white side) and then top it with either
this mascara
or
this one
. Both are amazing and work INSANELY well over the primer. I promise you won't be disappointed by this combination!
8. Eyebrows
I only recently realized how eyebrows can really frame your face and highlight your eyes. I use
this eyebrow pencil
to fill in my brows (in the shade medium brown). I start by applying a few strokes with the pencil side and filling in any sparse hairs, then I comb it with the other side of the eyebrow pencil. I HIGHLY recommend this product, even if you already have dark brows!
9. Finish
This is my favorite part of my makeup routine (not sure why!). I love this
Bye Bye Pores
powder and save it for last to "set" my makeup. I swirl the powder onto a fluffy brush and blend it into my skin in circular motions… while I'm setting my makeup, it also mattefies by skin, preventing shine, blurring imperfections and decreasing the sizes of my pores. It's a literal miracle product!
If you guys have any product recommendations, I would love to hear them. I'm always looking to try out new products!! 🙂
SHOP THE POST:

JavaScript is currently disabled in this browser. Reactivate it to view this content.