Hey everyone!
To continue with the Belles of the Beach series, I wanted to share with you my fitness and workout plan for the month of February.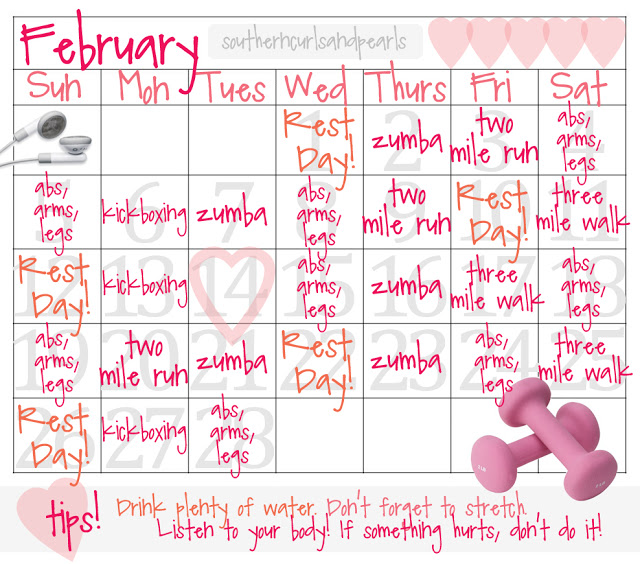 I customized my calendar to include rest days and the types of workouts I like.
For instance, I love taking advantage of the gym classes on campus. Mondays are always kickboxing days, and Tuesdays and Thursdays are strictly for zumba!
Because Wednesdays are always incredibly busy for me, I only have about 30 minutes to dedicate to working out. These are the days that I focus on "abs, arms, legs." For this workout, I turn to youtube! I am a huge fan of the 80s videos, "8 minute abs" and "8 minute arms." These workouts are very time-efficient (but harrrd!) and I can do them in the morning before I hop in the shower. I have a pair of three-pound weights that I use for these exercises.
Fill out your own!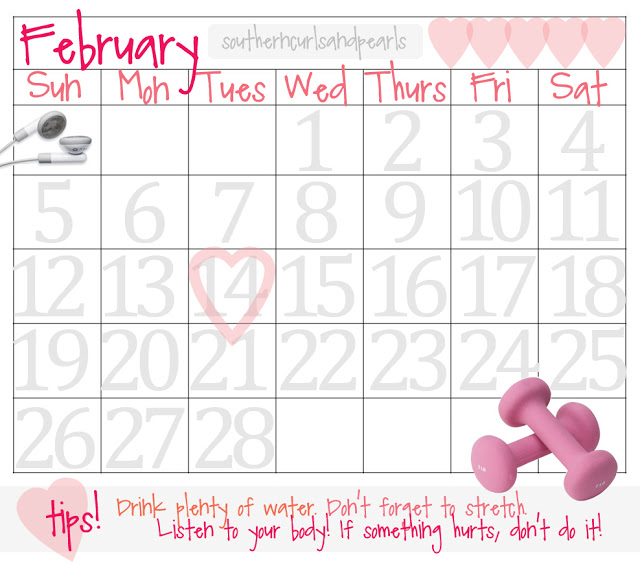 *Remember to add in rest days, which are extremely important. Your body needs to rest every once in a while – it also gives your muscles time to re-build
*Switch it up! Remember to combine cardio with weight training so you maximize your time
*Don't be too hard on yourself! Be proud of the workouts that you do finish, and don't get upset if you don't have time to complete your workout that day
Happy Monday, loves!
And happy almost Valentine's Day! What's everyone doing for the big day? 🙂
Love, Cait