This week's celebrity beach icon is…
Audrina Patridge.
Audrina grew up on a beach in Orange County, CA and has been around water all her life. Besides having a stellar bod, the Hills hottie also always has the cutest suits!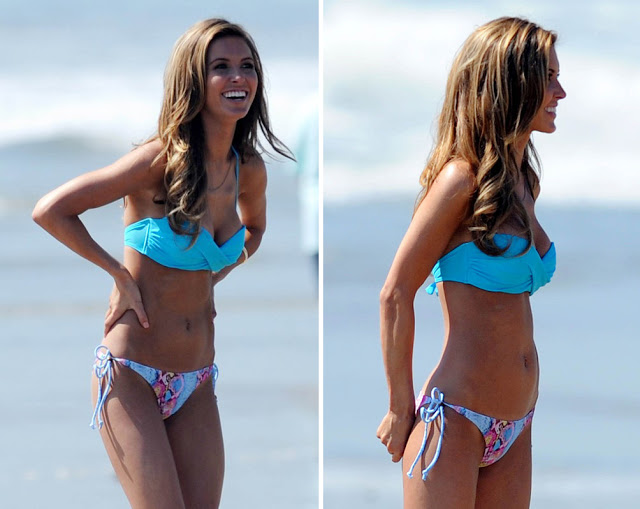 Audrina is a fan of bright colors and fun patterns. She also likes to mix tops and bottoms of different swimsuits. She often pairs a solid colored top with different colored bottoms.
Get Audrina's beach style: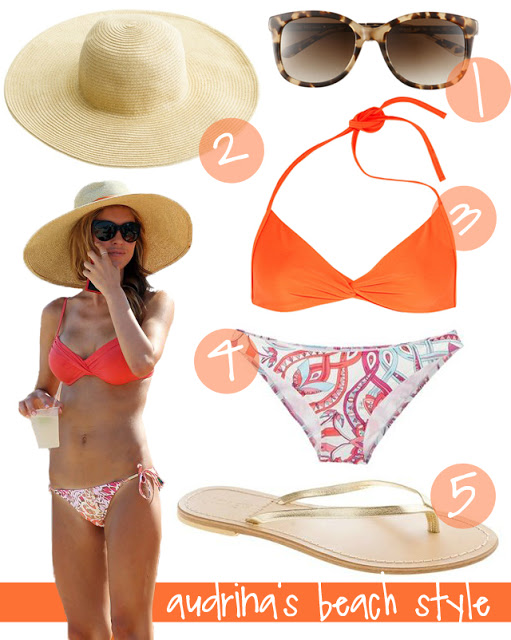 In Shape magazine, Audrina dishes about how to look hot on the beach. Here are a few of her tips:
1. Try on, try on, try on!
Audrina recommends going to the store and trying on as many different styles of swimsuits to see what works for your body type, skin tone, and lifestyle. "Be open-minded," she says. "Even if you think you know what works on your body, you may be really surprised by the results."
2. Cover Up
If you feel self-conscious in your suit, experiment with strategic cover-ups that showcase your best assets, be it toned legs or sexy shoulders. "You can team a gauzy tunic with a bikini bottom," she says, "or flaunt your upper body with a suit top paired with a long skirt." Even Audrina covers up when she heads to the beach, such as with this cute gauzy top: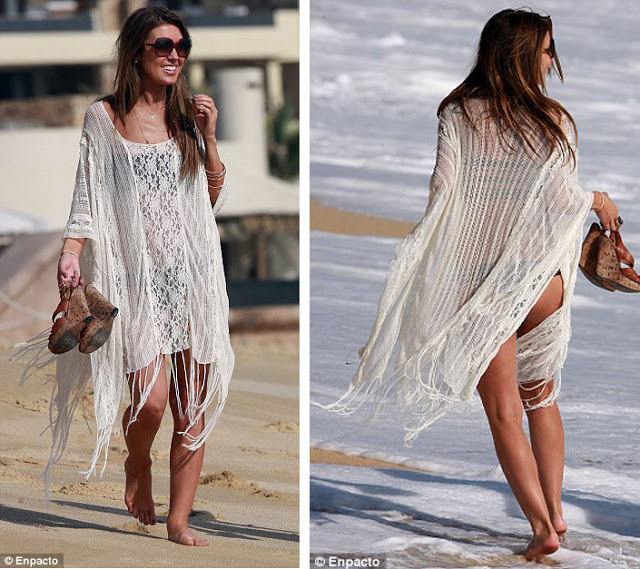 3. Flex Your Muscles
For an extra boost of confidence before she heads onto the beach, Audrina does a quick series of squats and sit-ups. "I like to get the blood flowing to those areas," she explains. "I feel tighter and stronger, and it gives my skin a nice rosy glow."
4. Fake It
One glance at Audrina and you know she loves having that golden tan. "I have olive skin, so if I'm in the sun for even 15 minutes, I turn brown," she says. "But I'm much more aware of protecting my skin from the sun's rays than I was in my teens and early 20s." Now she's a fan of self-tanners and is extra careful about applying sunscreen—ones by Lancer Rx, Neutrogena, and Kiehl's are faves. "These products give my skin a smoother look and firmer appearance," she says.
5. Shine On
Another trick Audrina swears by is to rub a little Hawaiian Tropic Oil onto her skin over her sunscreen. "It keeps skin soft and accentuates your muscles," she says. "But you have to be careful not to use too much or you could end up looking greasy!"
Happy Sunday, loves!
Love, Cait