Hello lovelies!
When I'm really busy at school, I need some motivation to get up in the morning…
which is why I've started making power smoothies for breakfast.
It's like waking up to a mini-vacation every day. For ten minutes, I get to sip my smoothie and feel like I'm on a beach somewhere being fanned by hot boys under the shade of a palm tree… if you get what I mean. It's a moment of relaxation before I have to trudge off to my internship, classes, meetings and the other mundane activities of everyday life.
The best part? Well, there's several.
One, it's insanely healthy (your bikini bod will thank you), and two, it's so delicious you will be tempted to make one for lunch, and dinner, and a midnight snack, and so on. So…
…What's the secret?
Apple juice.
I swear! I don't know what it is about apple juice, but it makes the smoothie so much better. There are plenty of fruit combinations to try (and you pretty much can't go wrong), as long as apple juice is in the mix.
The one I had this morning (pictured above and below) is my favorite combination.
Breakfast Smoothie
1/2 cup apple juice
1 cup frozen fruit mix: strawberry, mango, and pineapple
1 small banana
1/2 cup ice
Blend. Drink. Spoon. Enjoy.
Nutrition: ~200 calories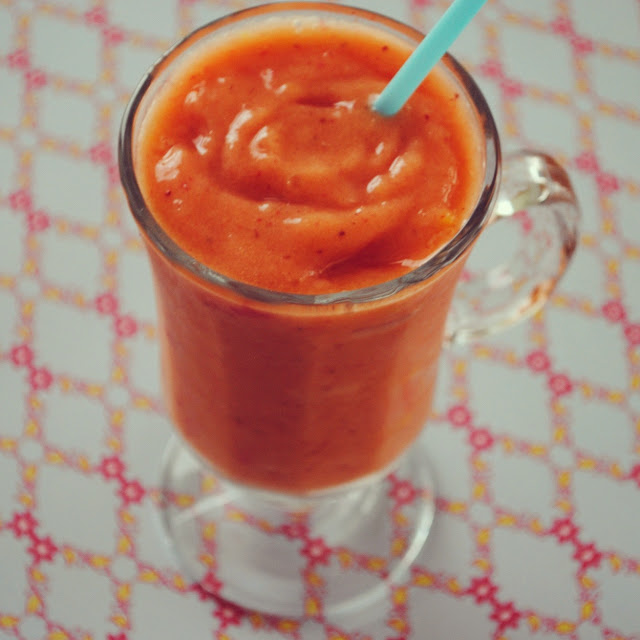 Perfect way to get your antioxidants in the morning!
Love, Cait