Hope everyone had a great Mother's Day! 🙂
Today's post is dedicated to what's inside your beach bag! I loveee bags (any kind), but especially big totes for the beach or the pool. I would love to have these items in my beach bag. Bright colors are so trendy right now, and all of these items are perfect for looking cute by the ocean or the pool. Here are my necessities: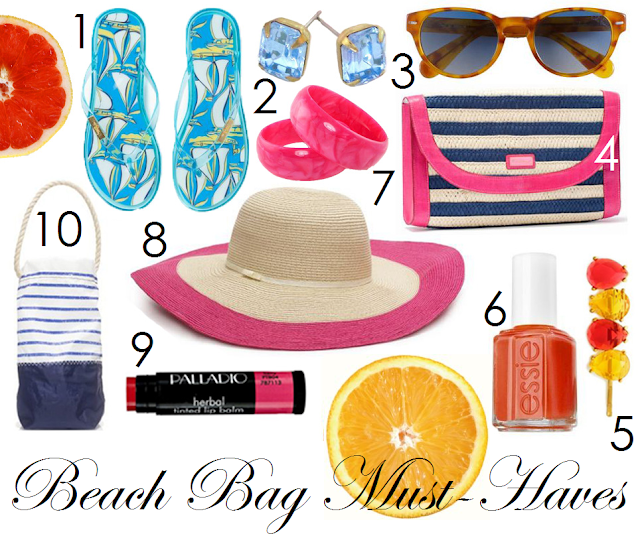 I love the sailboat pattern on these, and the fact that they're jelly! You can wash them off after the beach and ta-dah, good as new.
The color of these reminds me of water in the tropics.
I'm loving the tortoise-shell and the retro feel.
The stripes are nautical but the hot pink adds a feminine touch. Stow your makeup or sunscreen in here to keep it out of the sun.
Get your bangs off your face with these cuties!
Perfect for fingers and toes.
Plastic bangles are perfect for the pool because you don't have to worry about them getting messed up in the water.
Keep the sun off your pretty face with this gorgeous sun hat.
This pretty tinted lib balm contains natural UV filters to protect against the sun.
Make sure your wine stays chilled while your poolside.. this case is so cute I think I would have to find other reasons to use it!
In addition, I always have to bring along a book of sudoku-puzzles and a good read! Speaking of good-reads, I need a new book to read now that I have more free time. Does anyone have any suggestions for good books?
Love, Caitlin