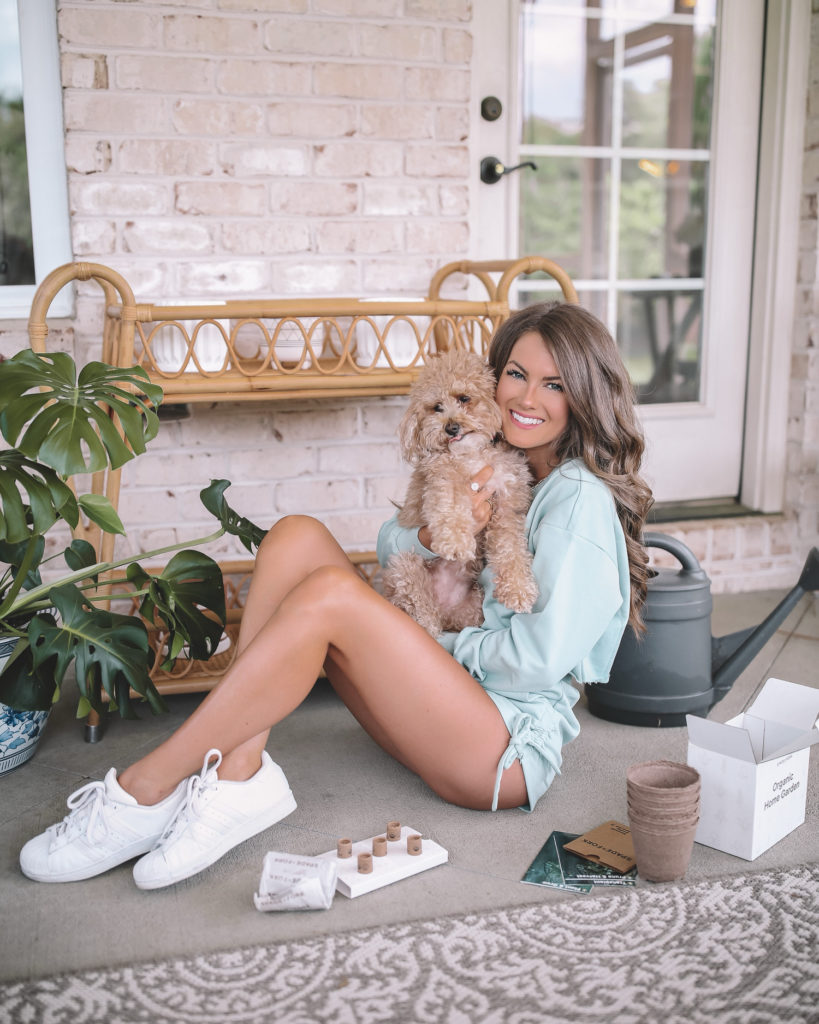 As I'm sitting down to write this post, a hot coffee by my side and Winnie in my lap, I feel extremely thankful. A lot of us has been given the gift of more free time right now, and despite all of the bad happening in the world right now, we have so many reasons to feel grateful. I've been taking advantage of the extra free time to clean and organize my house, cook healthy dinners, bake banana bread, and do things that make me feel both joyful and calm. Last week I planted a small herb garden on my screened-in-porch, and it has become a very therapeutic process in tending to my little herbs. Research has shown time and time again that gardening has a positive effect on our mental health (something we all need right now!)… so I'd love to dig in to those benefits a little deeper.
P.S. You don't have to start an herb garden like mine, there are TONS of options out there! You could start small with a small indoor herb garden to keep on your kitchen countertop, a vertical planter for flowers, or even hanging planters! If you're going to be planting outside (whether in pots or a flower bed), you'll need a set of garden tools and a hat that offers sun protection. No matter what you choose, you'll be one step closer to feeling a little more joy and a lot less stress.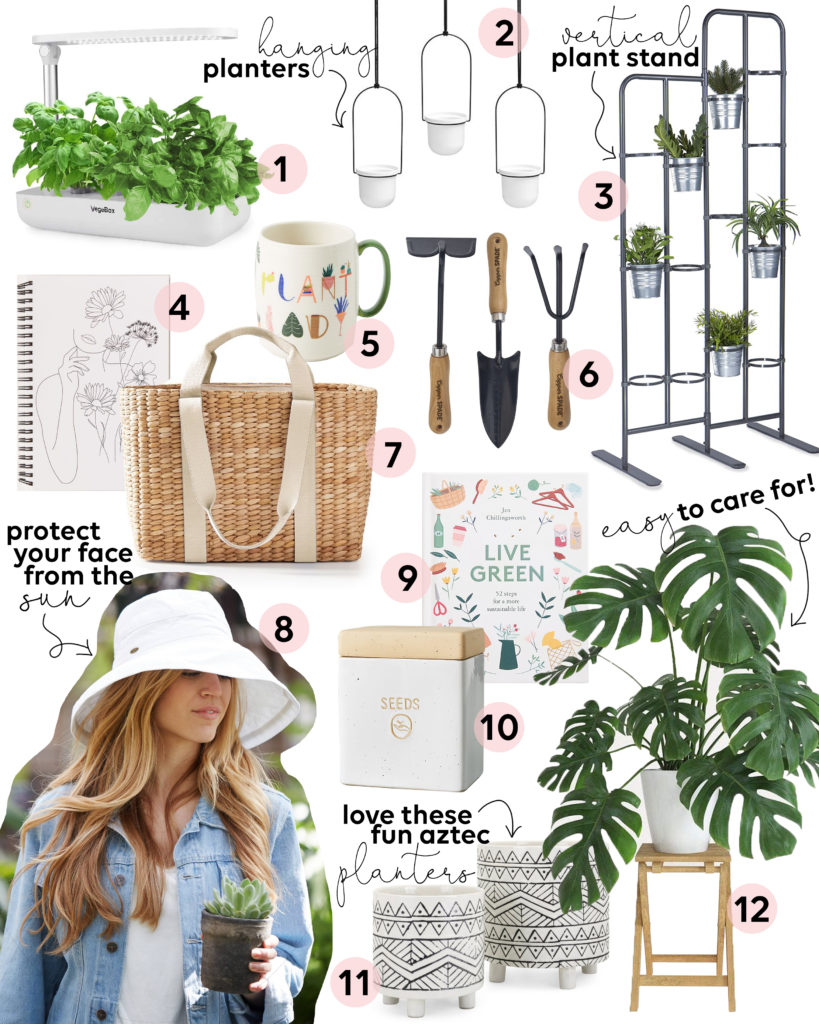 one // two // three // four // five // six // seven (20% off with code FRIENDS) // eight // nine // ten // eleven // twelve
Now, the top five reasons that gardening is good for your mental health!
1. Gardening gives you a sense of responsibility
Having a living thing to care for gives us a sense of responsibility – if you don't water or prune our plants and herbs, guess what? They die! This responsibility makes us feel "needed" and can give us a sense of purpose.
2. Keeps you connected to other living things
A lot of us may feel lonely and isolated right now, but gardening keeps us connected to living things (even if they can't talk back!). Just being in nature reminds us that we are not the center of the universe, and there is life all around us that continues to go on like normal.
3. Releases happy hormones
Studies have shown gardening can lower anxiety and depression by boosting our "happy hormones," serotonin and dopamine. Getting your hands dirty may be the key – when your hands come in contact with a specific soil bacteria, Mycobacterium vaccae, it triggers the release of serotonin in your brain. And gardening is a double whammy since you're out in the sun, and sunlight can increase the brain's release of serotonin as well!
4. Reminds you to live in the present
Instead of worrying about bills, work, or our loved ones, gardening forces us to focus on the task at hand – whether that's watering, repotting, or weeding. Concentrating on a physical task allows our minds to take a break and be more aware of our senses, and being in nature reminds us to listen, touch, see and smell.
5. Helps you feel in control
Everything happening in the world right now is out of our control, which REALLY kicks up my anxious thoughts – I am one of those people that always likes to feel in control! Planting a garden is something small that you can be totally in control of. You control every aspect of your garden: what you choose to grow, where you plant it, what it looks like, how often you water it, etc. It's a very comforting feeling to feel like you at least have control over one area in your life!
Like I said, you can start really small. I ordered an organic herb garden kit off of Amazon (similar to this one) and it does not take up much space at all. If I wanted to keep all five little pots on my kitchen counter, I totally could! I also love that one day, we'll have fresh basil, cilantro, and rosemary to snip for our dinner recipes.
If you're thinking of starting a garden, I hope you go ahead and go for it! xoxo